Learn About The Types Of Gardens Used By Landscapers
When we talk about landscaping, what comes to your mind? An area or place where plants are inserted? Isn't that what you think? Most people do too, but the correct thing would be that when thinking about landscaping, we also think about the existence of life, even because landscaping is not only creating, planning, and executing but also bringing nature a little closer to life and the daily life of people.
Adapting plants of different types, each with its characteristics and forms, in a landscape. Being these natural or not, in external and even internal places, provides lightness, beauty, and ambiance.
In the landscaping universe, there is no project equal to another, so professionals who work in this area must explore their artistic sense since it will be directly linked to where they will work.
There are different types of gardens; below, we will briefly list each.
Country Garden
This garden is adapted to rural environments such as ranches, plots, and farms. This garden is explored with more natural paving, gravel, river stones, or even brite. The decoration elements are more rustic, emitting and highlighting the environment; the flowers and plants are combined with each other with delicate texture and color.
Contemporary Garden
A larger environment is necessary for the contemporary garden model; the decoration elements often have straight and simple lines. Large plants with different colors, textures, and shapes enhance the background of the environment, giving a feeling of comfort and tranquility. Smoother pavements are used, without shapes, since many straight lines are explored in that style.
Formal Garden
They are composed in a balanced, rigid way, with a geometric design and great ease of recognition, since a dramatic and almost theatrical atmosphere is delineated, inspired by models of classic decorations. The decoration elements worked ceramic pots and with good finishes.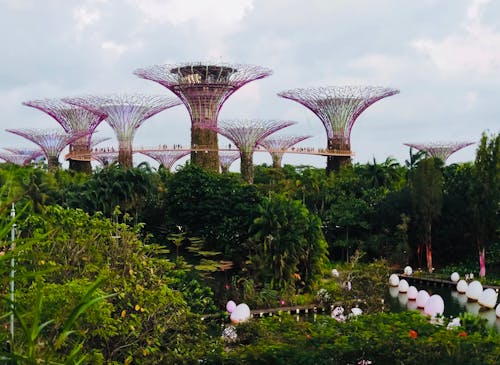 Colonial Garden
Although it is confused with rural landscaping, its decorative elements come from a rural source, such as old haciendas from colonization. The Colonial Garden is characterized by the insertion of these colonial materials and fountains and lakes.
Mediterranean Garden
Plants such as grapes, lemon trees, and rosemary, among others, make up this style of landscaping. Marine elements are explored for decoration, such as ground shells and vitrified ceramics that become allies of the paving or the garden finishes. Small fountains and small patios also enter the scene in the composition of the Mediterranean garden.
Eastern Garden
Designed with bonsai, magnolias, bamboo, azaleas, conifers, evergreen shrubs, and trees, oats, Japanese cedar, pink Japanese cherry, among others. They always have lakes as a form of the aquatic corner, as it symbolizes life, peace, and purity. It is undoubtedly a garden to bring calm and peace to the spirit, where the balance of nature with the environment places you in meditation.
Tropical Garden
Inspired by the landscaper Burle Marx, known worldwide for his gardens that value our plants and foliage from tropical and subtropical regions, structural and giant plants, plants with bright colors and sculptural forms such as bromeliads, heliconias, banana trees, gingers, orchids, palm trees, among others.